The Lucretius Today Podcast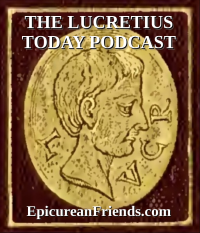 The Lucretius Today Podcast is a weekly panel discussion and presentation of Epicurean philosophy.
Our current podcasters are: Cassius, Martin, Joshua, Kalosyni, and Don.
Each episode of the show has a thread below with podcast notes and listener comments. The podcast is available for free subscription at all major podcast sources. For the text of Lucretius read during the first 92 episodes, click here to download the EpicureanFriends Reference Edition of Lucretius.
Here are our ground rules and goals of the podcast:
First: Our aim is to bring you an accurate presentation of classical Epicurean philosophy as the ancient Epicureans understood it, not to substitute our own opinions for those of Lucretius or Epicurus.
Second: In this podcast we don't express or imply or personal opinions on modern political issues. At Epicureanfriends.com we call this approach "Not Neo-Epicurean, But Epicurean." Epicurean philosophy is not Stoicism, Humanism, Buddhism, Taoism, Atheism, or Marxism - it is a unique philosophy of its own, to be understood on its own terms, and not as subordinate to or in terms of any other schools, conventional modern moralities, or political positions.
Third: The close study of Epicurean philosophy reveals that Epicurus did not advocate the pursuit of luxury, but neither did he teach a minimalist lifestyle. As is written in Vatican Saying 63, "Frugality too has a limit, and the man who disregards it is like him who errs through excess." The four key points taught by Epicurus that we stress at EpicureanFriends.com are (1) There are no supernatural gods, (2) There is no life after death, (3) All good and evil consist in sensation, and (4) Pleasure is the beginning and end of the blessed life.
These ethical points are as emphasized by Diogenes of Oinoanda: "But since, as I say, the issue is not 'what is the means of happiness?' but 'what is happiness and what is the ultimate goal of our nature?' I say both now and always, shouting out loudly to all Greeks and non-Greeks, that Pleasure is the end of the best mode of life, while the virtues, which are inopportunely messed about by these people (being transferred from the place of the means to that of the end), are in no way an end, but the means to the end."
As much as anything else, Epicurus taught that any happiness we ever have comes in this life, which is why it is so important not to waste time in confusion, and why we hope to benefit our listeners through the discussion of Epicurus.
Episode Topics:
If you are just getting started with our podcast, we recommend as representative examples:
Lucretius Today Podcast
Title
Replies
Last Reply

Replies

5

Views

180

5

Replies

30

Views

845

30

Replies

3

Views

273

3

Replies

8

Views

380

8

Replies

4

Views

423

4

Replies

2

Views

253

2

Replies

4

Views

300

4

Replies

1

Views

175

1

Replies

3

Views

233

3

Replies

22

Views

1.4k

22

Replies

9

Views

525

9

Replies

29

Views

1.5k

29

Replies

1

Views

270

1

Replies

1

Views

245

1

Replies

9

Views

607

9

Replies

7

Views

569

7

Replies

3

Views

353

3

Replies

3

Views

435

3

Replies

5

Views

508

5

Replies

3

Views

475

3

Replies

5

Views

673

5

Replies

3

Views

388

3

Replies

7

Views

998

7

Replies

20

Views

3.1k

20

Replies

50

Views

2.1k

50

Replies

6

Views

2.9k

6

Replies

6

Views

877

6

Replies

20

Views

1.6k

20

Replies

4

Views

654

4

Replies

4

Views

612

4

Replies

13

Views

1.2k

13

Replies

15

Views

1.2k

15

Replies

10

Views

963

10

Replies

17

Views

1.8k

17

Replies

3

Views

663

3

Replies

2

Views

548

2

Replies

7

Views

870

7

Replies

34

Views

2.1k

34

Replies

2

Views

395

2

Replies

7

Views

853

7

Replies

28

Views

2.3k

28

Replies

109

Views

5k

109

Replies

33

Views

2.2k

33

Replies

10

Views

982

10

Replies

41

Views

2.7k

41

Replies

30

Views

3.1k

30

Replies

6

Views

987

6

Replies

5

Views

971

5

Replies

1

Views

689

1

Replies

4

Views

1.3k

4

Replies

17

Views

2.1k

17

Replies

1

Views

497

1

Replies

16

Views

1.4k

16

Replies

9

Views

1.2k

9

Replies

2

Views

687

2

Replies

5

Views

961

5

Replies

6

Views

993

6

Replies

7

Views

1.2k

7

Replies

4

Views

1k

4

Replies

10

Views

1.4k

10

Replies

18

Views

1.9k

18

Replies

25

Views

2.8k

25

Replies

15

Views

1.8k

15

Replies

4

Views

903

4

Replies

15

Views

1.9k

15

Replies

5

Views

908

5

Replies

4

Views

869

4

Replies

6

Views

973

6

Replies

12

Views

1.3k

12

Replies

8

Views

1.2k

8

Replies

11

Views

1.4k

11

Replies

42

Views

3.2k

42

Replies

8

Views

1.2k

8

Replies

22

Views

2.3k

22

Replies

10

Views

1.5k

10

Replies

45

Views

3.8k

45

Replies

9

Views

1.2k

9

Replies

30

Views

2.7k

30

Replies

7

Views

1.1k

7

Replies

7

Views

1.4k

7

Replies

22

Views

2.8k

22

Replies

15

Views

2.1k

15

Replies

16

Views

2.1k

16

Replies

14

Views

2k

14

Replies

20

Views

2.7k

20

Replies

4

Views

926

4

Replies

82

Views

6.9k

82

Replies

1

Views

678

1

Replies

5

Views

1.3k

5

Replies

6

Views

1.1k

6

Replies

17

Views

2.4k

17

Replies

2

Views

893

2

Replies

3

Views

1.1k

3

Replies

5

Views

1.2k

5

Replies

6

Views

1.3k

6

Replies

6

Views

1.4k

6

Replies

7

Views

1.6k

7

Replies

2

Views

862

2

Replies

10

Views

1.7k

10

Replies

5

Views

1.5k

5

Replies

23

Views

3.1k

23

Replies

3

Views

835

3

Replies

1

Views

758

1

Replies

2

Views

1.1k

2

Replies

1

Views

872

1

Replies

5

Views

1.4k

5

Replies

1

Views

857

1

Replies

1

Views

949

1

Replies

5

Views

1.6k

5

Replies

7

Views

1.7k

7

Replies

20

Views

3.7k

20

Replies

2

Views

1k

2

Replies

1

Views

1k

1

Replies

1

Views

998

1

Replies

23

Views

5k

23

Replies

7

Views

2.2k

7

Replies

14

Views

3k

14

Replies

1

Views

931

1

Replies

1

Views

1k

1

Replies

11

Views

3.2k

11

Replies

5

Views

1.7k

5

Replies

34

Views

6k

34

Replies

2

Views

1k

2

Replies

2

Views

1k

2

Replies

2

Views

1.2k

2

Replies

1

Views

834

1

Replies

56

Views

8.3k

56

Replies

3

Views

1.3k

3

Replies

1

Views

1k

1

Replies

1

Views

819

1

Replies

17

Views

3.5k

17

Replies

2

Views

1.1k

2

Replies

4

Views

1.2k

4

Replies

1

Views

898

1

Replies

2

Views

1.2k

2

Replies

1

Views

932

1

Replies

1

Views

1k

1

Replies

1

Views

757

1

Replies

1

Views

992

1

Replies

1

Views

4.7k

1

Replies

2

Views

1.2k

2

Replies

7

Views

1.8k

7

Replies

11

Views

2.7k

11

Replies

6

Views

2.1k

6

Replies

1

Views

1k

1

Replies

1

Views

1.2k

1

Replies

2

Views

1.1k

2

Replies

18

Views

3.5k

18

Replies

21

Views

4.6k

21

Replies

17

Views

4.3k

17

Replies

0

Views

399

Replies

9

Views

2.4k

9

Replies

21

Views

4.6k

21

Replies

8

Views

2.2k

8

Replies

5

Views

1.7k

5

Replies

3

Views

1.3k

3

Replies

4

Views

1.4k

4

Replies

1

Views

1.1k

1

Replies

2

Views

1.3k

2

Replies

0

Views

727

Replies

1

Views

1.2k

1

Replies

3

Views

1.5k

3

Replies

5

Views

1.7k

5

Replies

1

Views

1.1k

1

Replies

4

Views

1.7k

4

Replies

4

Views

1.7k

4

Replies

2

Views

1.3k

2

Replies

1

Views

1k

1

Replies

1

Views

999

1

Replies

6

Views

2k

6

Replies

8

Views

2.7k

8

Replies

7

Views

2.3k

7

Replies

4

Views

1.6k

4

Replies

5

Views

2.4k

5

Replies

7

Views

2.4k

7

Replies

5

Views

2.1k

5

Replies

7

Views

2.3k

7

Replies

2

Views

1.8k

2

Replies

2

Views

1.5k

2

Replies

12

Views

3.6k

12

Replies

18

Views

7.2k

18

Replies

28

Views

7.2k

28

Replies

15

Views

5.1k

15

Replies

9

Views

1.6k

9

Replies

1

Views

1.2k

1