Welcome to episode 166 of Lucretius Today. This is a podcast dedicated to the poet Lucretius, who wrote "On The Nature of Things," the only complete presentation of Epicurean philosophy left to us from the ancient world. Each week we walk you through the Epicurean texts, and we discuss how Epicurean philosophy can apply to you today. If you too find the Epicurean worldview attractive, we invite you to join us in the study of Epicurus at EpicureanFriends.com, where you will find a discussion thread for each of our podcast episodes and many other topics.
Today we are very pleased to bring you a very special interview with Dr. David Glidden, Professor Emeritus of Philosophy at University of California, Riverside.
Dr. Glidden has written numerous articles of interest to fans of Epicurus, including "Epicurean Prolepsis," in the 1985 Oxford Studies in Classical Philosophy, "Epicurean Thinking," and many others related to Epicurus which we encourage our listeners to seek out.
Epicurean Prolepsis (or anticipations, or preconceptions, or whatever you prefer as the best word for the topic) is one of the three legs of the Epicurean canon and one of the most difficult subjects for many people to understand as they study Epicurus.
We think you are really going to enjoy hearing Dr. Glidden's unique and challenging take on the subject, and we think it is going to prompt many of us to take a new look at what the standard commentators, even Diogenes Laertius himself, have had to say about the subject in the past. Dr. Glidden's approach promises to lead to a much deeper and rewarding understanding of many aspects of Epicurus that are often overlooked today.
We can't thank Dr. Glidden enough for his time in talking to us about his work, and we hope to be able to talk to him again in the future, so if you have questions or comments please be sure to post them in the thread below.
Now, let's talk with Dr. Glidden: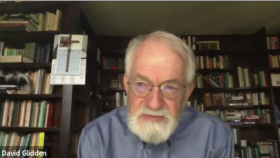 UCR Profiles - Search & Browse
Post
RE: Dr. David Glidden's "Epicurean Prolepsis"
Here's another point of terminology: If some people are concerned that the word "recognition" in "pattern recognition" is too strongly evocative of Plato suggesting we remember true forms from before we were born, or that gods are writing in our minds, or that there are "essences" in the world that are their equivalent, those people might get the same result from calling this "pattern appreciation."

As I understand English, "appreciation" carries most of the same meaning in terms of being able…
Content embedded from external sources will not be displayed without your consent.
Through the activation of external content, you agree that personal data may be transferred to third party platforms. We have provided more information on this in our privacy policy.