Hi Everyone,
Join in on the fun! This next Monday night at 8pm ET. I'll be presenting on the the topic: "What do happy people do?"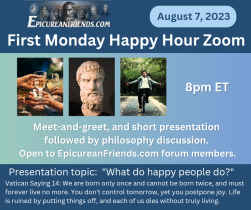 Open to forum members. Let me know here in this thread if you need the Zoom link.
We'll go for about an hour. If you like, you are welcome to sip on a beverage of your choice during the meeting.

(fyi - Cassius will be attending and will help guide the philosophy discussion, and keep us all on the right Epicurean track).