I am starting this thread as a place to provide updates on something I have been working on for my own use, and can make available to others. As I mentioned in this post I have been working with two new free programs that are intended to assist in research and knowledge organization. The key to both of them is that they store their files in text-based files coded only with "markdown" syntax for formatting italics and headings and the like, and that makes them easily usable in many different programs. It also hopefully insulates them from becoming obsolete or "locked in" to any single program, which would be the case to some extent for something like Microsoft Word.
I have a large collection of many of the core documents already in markdown/text format, and that's the basis for the material that I have already posted here as the "Epicurus College Course Material." You can already use that as an online source to search through several of the Lucretius translations and other material.
But the real goal is to have a fast and complete local set of files that can easily and quickly be searched and then used to produce new articles, books, and other writing. Another example is that I am working on a project to make a presentation for Christos Yapijakis, and I am going to use these programs to generate the slides to be used during the talk (if I get that far quickly enough).
For now that's really all I want to post, except to say that I think the more productive of the two programs is probably "Obsidian," but Logseq is a close second and does some things better than obsidian. The real benefit is that both are essentially free (you can pay for some nonessential addins if you like, but they are not necessary) and both use the same format files. So with very minor tweaking (none is necessary) you can use both programs at the same time on the same files and get the benefit of both.
You can make Obsidian or Logseq look pretty much any way you like it, but here is a sample screen from Obsidian showing a search: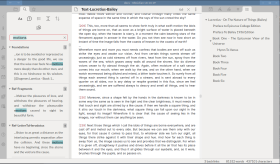 And an example of how easy it is to compare two translations side by side: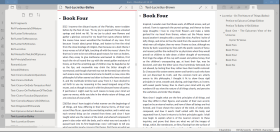 I will be preparing a zipped file with all the core markdown files of the texts that I have already, most of which are those already available at the "Epicurus College Course Material." Once I post a list of those that I already have, we can talk about others contributing their own files to the list so we all have access to the same material.
It is very helpful to have everything in the texts searchable by a single program that provides useful search results in a form that can be easily copied and pasted into new posts and articles etc.