March, 2019

"Not just a philosophy, but a way of life!"
** Welcome to this month's edition of the best email newsletter for Epicureans around the world. If you know of other newsletters, or Epicurean news that we aren't covering, please send us an email!
** Our home base for discussion, where you can find links to major Epicurean news and websites across the internet is www.EpicureanFriends.com. Our goal is to better understand and apply the wisdom of Epicurus, and in the words of Lucian, "strike a blow for Epicurus - that great man whose holiness and divinity of nature were not shams, who alone had and imparted true insight into the good, and who brought deliverance to all that consorted with him!" For more background, check here and also here. For those who use Facebook, we also cover news from the Epicurean Philosophy Facebook page. For interim updates between editions of this newsletter, check out EpicurusToday.com for daily updates.

** We are frequently asked for help in connecting with a local Epicurean group. At present there are only a few established groups in the world, notably in Greece and Australia. If you are interested in connecting with Epicureans in your local area, please check this Regional Epicurean Group Forum for help in organizing and finding local connections. The forum is divided into sections for each area of the world, and also contains hints for using Meetup.com as a method of getting started.

** Let's also review how to find links to active Epicurean websites. In addition to the links at EpicurusToday.com, an updated list is maintained here at EpicureanFriends. If you are someone who is studying Epicurus and trying to apply his lessons in your life, you're well aware of the emphasis on friendship and on communicating with like-minded people. Wherever you are, even if there is no local group yet, please stop in at one of the on-line websites and introduce yourself. The best way you can help yourself and the Epicurean websites is to ask questions, comment, criticize, praise, and otherwise give us your feedback so we can get to know you better. At EpicureanFriends you are welcome to subscribe anonymously, and as long as you follow the rules of the group your postings are welcome. Reading a book or even a website is no substitute for personal interactions with other Epicureans. If you meet someone who isn't friendly and interested in talking about Epicurus, then you aren't talking to an Epicurean!
HERE ARE SOME OF THE RECENT TOPICS OVER THE PAST MONTH THAT YOU MAY WISH TO CHECK:


** It is well know that Frederick the Great, one of the most famous kings of Prussia, was a fan of Lucretius (and therefore of Epicurus). With the help of German-speaking members at EF, we tracked the source of a very interesting Frederick quote: "Christianity is an old metaphysical fiction, stuffed with fables, contradictions, and absurdities: It was spawned in the fevered imaginations of the Orientals, and then spread to our Europe, where some fanatics espoused it, where some intriguers pretended to be convinced by it, and where some imbeciles actually believe it." Anti-Christian statements are a dime a dozen, and disbelieving Christianity or simply being an atheist is no guarantee whatsoever that a person has an affinity for Epicurus. When we see the connection that someone both rejects conventional religion and praises Epicurus, however, we're dealing with something special that students of Epicurus should know about. If you know of other historical figures who modern Epicureans should know about, please be sure to let us know. The full thread documenting the background of the statement by Frederick the Great is here.

** The local Epicurean Garden in Athens Greece is one of the most active groups in the world. They conduct very elaborate yearly seminars at least once a year, and their leading members regularly produce articles. Unfortunately for those who are not bilingual, many of them are only in Greek, but we recently received news that (A) the Athens group will be working in collaboration with the Greek branch of UNESCO, and under the auspices of the Mayor of Athens and of the Mayor of Pallini, to organize the 1st Panhellenic Meeting of Happiness "Happiness is a Human Right" in order to discuss philosophically and scientifically about happiness and present the Declaration of the right of happiness in the European Union. On the 20th of March (International Day of Happiness) the Group will announce the details of the 1st Panhellenic Meeting of Happiness which will take place on April 14. The English language page of the website of the Athens Garden, where more information will be announced is here. As an example of some of the work from the Athens Garden, check out this slide presentation on Bioethics here.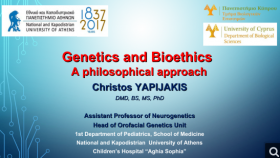 ** One of our active posters at EpicureanFriends, DVO, started a thread on "Best Ways To Introduce Teachings." DVO has a special interest in Utilitarianism and how those ideas may relate to Epicurean philosophy, and the thread contains lots of interesting discussion about where to start and how Epicurus relates and differs from the Utilitarians.
** The subject of Epicurus' views on the Greek Gods of his time, and on the existence of gods in general, is always a contentious subject. One variation on that topic being discussed now is "Imagery of Gods / Gods Among Men" focused mainly on how modern Epicureans should consider and and use images of divinity in Epicurean philosophy. Even if you reject the view that true atomic-based entities exist somewhere in space, it's clear that talk of god-like beings was a subject regularly discussed in Epicurean philosophy, if for no other reason than as a symbol of the best possible life. This thread may help advance your own thoughts about that aspect.
** Two commentators whose views of Epicurus are regularly discussed are Bertrand Russell and Martha Nussbaum. Both are frequently cited, yet neither were explicitly Epicurean themselves, and their views of Epicurus should not be accepted uncritically. Threads were started recently on both to collect citations illustrating their personal views, so that those can be kept in mind when evaluating their opinions of Epicurean philosophy. The thread on Bertrand Russell is here and on Martha Nussbaum is here.
** One of our most popular sections at EpicureanFriends is the forum Epicurean-Friendly Art and Music. The forum is divided into sections according to genres of music. We already have a good collection of links to YouTube versions of Epicurean-friendly music, and we will always be looking for more. Please drop by and add your own suggestions for others to appreciate.
** Over the last month we have been adding new graphics/memes on the Forty Principal Doctrines, with the goal of preparing one or more for each of the forty. Check out the ones we have prepared so far at this link or go directly to the EF gallery section here.
** One of the graphics/memes you most definitely don't want to miss is Nate's "Allegory of the Oasis" which has been revised and updated in recent months. The characters and events illustrated in this graphic are a great way to think about and discuss key points of Epicurean philosophy. We want to continue to thank Nate for his work in preparing this.
** As we begin to close this month's newsletter, let me call to your attention the main ways of navigating the EpicureanFriends website. If you are new to the site, be sure to first check out the material on the home page. Once you are familiar with that, you'll probably want to bookmark the Dashboard to go straight to new forum posts on future return visits. We have recently added a new link - the New! button that appears at the start of the top menu. Click that New! button and you'll go directly to the latest updates in all sections of the website. if have catching up to do and would like to see the topics that have been most active beginning of the forum, click here.
** In addition to the other links mentioned above, if you are an active Facebook user, please check out the Epicurean Philosophy Facebook Group. You will probably also want to follow the Epicurus Page on Facebook as well as the various pages of the Society of Friends of Epicurus.

** Thanks to all who have participated at EpicureanFriends.com over the past month. It can't be emphasized enough that proper application of Epicurean philosophy demands that we have Epicurean friends, so we urge you to join one of the many Epicurean venues and study Epicurus with like-minded people - and then you too will be well on your way to becoming a god among men!
As always, if you have any comments, questions, or suggestions, please let us know at the forum.
Live Well!
Cassius Amicus
______________________________
Note: If you received this newsletter as a forward from someone else, please join us at www.Epicureanfriends.com and register for an account, where you will receive your own copy of the newsletter each month. If at any point you would like to unsubscribe, please go to your account here and deselect the "Newsletter" user group. If you have any difficulties doing that, please notify the admin and we will assist you promptly.