It's been a constant frustration to me over the years that I don't personally have even the most basic artistic talent to produce sketches of any of the major art subjects.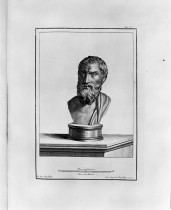 I think that that's in part why I have always gravitated toward these sketches made early on from the Herculaneum discoveries -- I particularly like this "look" in the face/eyes of Epicurus, and the format lends itself to easier reproduction - but it's still not a "line sketch" we would be more easily translatable digitally.
I download every version of Epicurus I ever come across, but not many seem to have a lot of "sketch" potential.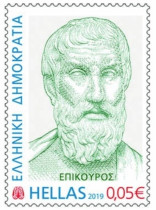 Perhaps the "stamp" version might convert well, and it's a pretty good likeness.
This color version might also have some potential, but I expect one of the first two would do best.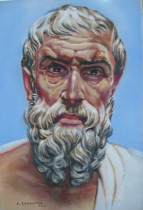 However I would love to get a good sketch version of the full statue that Elli is talking about, but i have a feeling that it would almost require reworking it from scratch to get something that really works as "art."
I know there must be artists who are good at quick sketches who we might even be able to "commission" to do the job, but I've never made any progress.
I am going to check here: https://www.fiverr.com/categor…esign/cartoons-and-comics