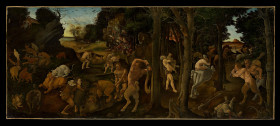 Piero di Cosimo, A Hunting Scene, c. 1500
Text from the Metropolitan Museum of Art:
This picture and its companion (also in The Met's collection) reimagine the early history of humankind and are among the most singular works of the Renaissance. Their inspiration was the fifth book of De Rerum Natura by the Epicurean poet and philosopher Lucretius (ca. 99–55 B.C.). A manuscript of Lucretius's work was discovered in 1417 and published in Florence in 1471–73. Lucretius believed that the workings of the world can be accounted for by natural rather than divine causes, and he put forward a vision of the history of primitive humanity and the advent of civilization that was much discussed in Renaissance Florence—and beyond.
And so now,
in what remains, my train of argument
has now brought me to this point, where I must
set down an explanation how the world
is a mortal substance and was born,
how a collection of materials
established earth, heaven, sea, stars, sun,
and the moon's globe, then what living creatures
sprang from earth, as well as those never born
at any time, how the human race began
to employ among themselves various words
by giving names to things, and ways in which
that fear of gods slid into human hearts,
which preserves sacred places on earth's sphere—
shrines, lakes, groves, altars, images of gods.
...
They could not look toward the common good
and did not know how to make for themselves
any laws or customs. A man would take
whatever prize fortune might throw his way,
with each one trained to look out for himself
and get by on his own. And in the woods,
Venus would join bodies in sexual acts,
for each woman was either overwhelmed
by mutual lust, or by the violent force
and reckless passion of the man, or else
by some reward—acorns, or strawberries,
or fine pears. And trusting in the power
of their hands and feet, which was amazing,
they went after wild beasts in the forest
by throwing rocks and with large, heavy clubs.
They brought down many, but there were a few
they avoided in their hiding places.
...
And just in case, while dealing with these things,
you are perhaps quietly wondering,
it was lighting which first carried fire down
to mortal men on earth—with that all heat
from flames is generated. For we see
many things ignite and burn up when struck
by fire from heaven, once the bolt transmits
its heat. Then, too, when a tree with branches
is lashed by winds, sways back and forth, presses
and rubs the branches of another tree,
the violent force of rubbing brings out fire,
and while trunk and branches chafe each other,
sometimes the flaming heat of fire ignites.
Either of these two could have provided
fire to mortal men. And then sun taught them
to cook their food, using the heat of flames
to soften it, because out in the fields
they would see many objects getting soft
once beaten by sun's heat and lashing rays.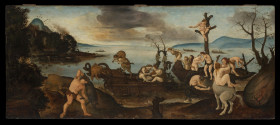 The Return from the Hunt, also at the Met.