The following is a copy of a text dialog, which I wanted to share so as to bring in others.
Cassius: Well unless you get rid of the fear of death and fear of gods then you by definition are always going to be anxious, and if you are anxious about those things you can't be completely happy. Therefore the mental understanding through philosophy is required for the most happy life possible. And this is why I keep stressing nothing from nothing. This is the self contained example of the analysis.
Kalosyni: Oh nothing from nothing is important and a different angle to the same problem.
Cassius: "agnosticism" about these things does not resolve anxiety. The issue is using your mind confidently to expel doubt.
Kalosyni: I think Buddhism is trying to get to the same goal of "fearlessness", but is going about it from a Pyrrho/skeptic practice. Which is much more difficult, nearly impossible.
Cassius: Which Epicurus' would say is crazy yes.
Kalosyni: Because then you throw out the things that are needed. That is said in canonics. PD 23.
Cassius: Lot of this comes back to trusting the senses as a solid ground for reasoning.
Kalosyni: So trusting the senses, that is also unclear to me, since we know there are optical illusions, and we make mistakes in perception as well
Cassius: Meaning that yes illusions are possible and you find them and get accuracy by more observations. There is nothing ELSE to trust because you have no other faculties.
Plato said they cannot be trusted so you must use mind to do geometry and stuff that he could not explain because he made it up. And skeptics said forget about accuracy all is illusion so give up.
Kalosyni: So that means we have to collect a certain number of data sets before we can be certain
Cassius: Yes til you get consistent results, until then you have to "wait". You can consistently see that nothing comes from nothing and therefore no further waiting is necessary. And it is not legitimate to say "maybe it will tomorrow!" Because there is no evidentiary reason to support that possibility.
Kalosyni: This is pretty complex
Cassius: If you mean nothing from nothing, any average first century Roman was presumed smart enough to understand it

Kalosyni: No I mean the basis of trusting the senses
Cassius: Yes that too

Kalosyni: You have to still apply reason
Cassius: That is Lucretius book 4. Apply reason to what? Answer: observations of the senses. There is no other basis for observing.
Kalosyni: These signs were put up all around the park in downtown Evans -- "Santa Facts". And if kids visit Santa at the park for pictures, then they think Santa is real. For example: Peter's niece was told that Santa is real.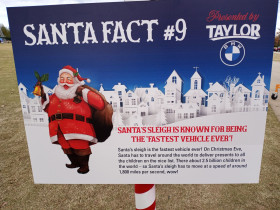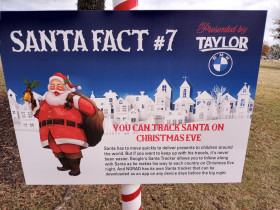 Cassius: Yes and Peter's niece will wake up and find there is no Santa clause. One day when she has enough observations away from tricksters. The senses do not guarantee you will not be fooled by illusions.
You have to test and test till you get consistent results. But the only kind of testing possible is through the senses.
Kalosyni: Santa is a good parallel to God, At least for children.
Cassius: Yes maybe so and Santa is disproven the same way God is. Yes children are an example of being under illusions.
And not knowing how to test the senses. You learn that over time. That is why you must understand how the senses work. And Lucretius spends a lot of time on that.
Kalosyni: Did you read Santa Fact number 7 (picture above)? This was her reason for still believing in Santa...as a teenager.
Also, I didn't get a picture of the sign that explained why Santa puts coal in children's stockings. Parents use the Santa myth as a punishment/reward motivator for correct behaviour and say to their kids: If you're not good then Santa will put coal in your stocking instead of presents.
Cassius: Those signs are the equivalent of religious deception and you cannot simply accept what they say about God or Christianity or anything else. There are people out there who just want to manipulate you. That is why you need to understand philosophy and how the world works. This is exactly what Lucretius says in book one.
102] You yourself sometime vanquished by the fearsome threats of the seer's sayings, will seek to desert from us. Nay indeed, how many a dream may they even now conjure up before you, which might avail to overthrow your schemes of life, and confound in fear all your fortunes.
And justly so: for if men could see that there is a fixed limit to their sorrows, then with some reason they might have the strength to stand against the scruples of religion, and the threats of seers. As it is there is no means, no power to withstand, since everlasting is the punishment they must fear in death
And you go directly from that to nothing comes from nothing as proof
127] Therefore we must both give good account of the things on high, in what way the courses of sun and moon come to be, and by what force all things are governed on earth, and also before all else we must see by keen reasoning, whence comes the soul and the nature of the mind, and what thing it is that meets us and affrights our minds in waking life, when we are touched with disease, or again when buried in sleep, so that we seem to see and hear hard by us those who have met death, and whose bones are held in the embrace of earth.
Kalosyni: So it is the senses, and also "by keen reasoning"
Cassius:
146] This terror then, this darkness of the mind, must needs be scattered not by the rays of the sun and the gleaming shafts of day, but by the outer view and the inner law of nature; whose first rule shall take its start for us from this, that nothing is ever begotten of nothing by divine will.
Fear forsooth so constrains all mortal men, because they behold many things come to pass on earth and in the sky, the cause of whose working they can by no means see, and think that a divine power brings them about. Therefore, when we have seen that nothing can be created out of nothing, then more rightly after that shall we discern that for which we search, both whence each thing can be created, and in what way all things come to be without the aid of gods.
By keen reasoning based on the evidence of the senses, which is the only kind of evidence there is
Which does not mean that you have to see or touch atoms, but that the things you can see and touch are only explainable by atoms
Kalosyni: So what is "keen reasoning"?
Cassius: There are a couple of rules preserved such as PD25 and some references in Torquatus about reasoning through analogy, and some references also in Philodemus
But it's nothing magic - it's just comparing observations and deducing only what is consistent with the evidence. And not accepting things without evidence.