Hi Everyone! This next Wednesday we are starting a new format of discussion at our weekly Zoom meeting. After some some back and forth reconsidering what night to have the meeting, and have now decided to stay with Wednesday evenings at 8:30pm ET. New attendees are encouraged to join!
Each week we will open up discussion on topics discussed in the preceeding Lucretius Today podcast. We hope you might get a chance to listen to the podcast ahead of time, but we will also make it possible for anyone to join in the discussion even if you have not listened to the podcast.
On Nov. 2nd, we will discuss Episode 145. Here is the link to the discussion thread which contains the audio recording:
Post
RE: Episode One Hundred Forty-Five - Part 01 (Chapter 1 of Epicurus And His Philosophy)
We're starting a new series in the "Lucretius Today" podcast. We'll be going through Norman DeWitt's Book "Epicurus and His Philosophy" and working to provide a basic overview of the philosophy from the ground up. Our first installment - Episode 145 - The Philosophy of Epicurus - Part 1 - Chapter 1 of "Epicurus And His Philosophy" is now available:
spreaker.com/episode/51668272
The goal of this new discussion group, as explained in a recent post by Cassius:
The main purpose of this change is to allow us to get more traction on the joint "project" that the Lucretius Today podcast represents. Now that we are going through DeWitt's "Epicurus And His Philosophy," what we are really in the progress of producing in the podcast is an up-to-date series of media presentations of the basic elements of Epicurean Philosophy. We will eventually put versions of this on youtube and it should become a major resource for outreach to newer students of Epicurus.




This is an important project and we need all the help we can get to produce a quality product. By discussing the topics on Thursday, in a wider group setting that is not recorded, we can produce new notes for the episode thread and even decide if they are additional points that need to be covered before we move forward.




Like Lucretius and Diogenes of Oinoanda, if we really take Epicurean philosophy to heart we need to find ways to share it with our circle of friends, and also find ways to widen that circle. Reviewing the podcast in the weeking discussion setting will help the podcasters sharpen their message and help us all work toward better material that we can share with others.




Please consider joining us in this effort.

Display More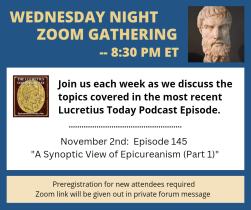 Anyone who has previously attended will automatically be messaged the link.
New attendees are welcome. Please post your request to attend either here in this thread, or send a private forum message to me with your request.
Hope to see you there!