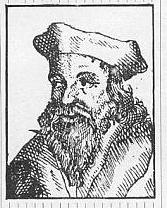 September 29th, 2022
The 450th anniversary of the death of the great French classical scholar Denis Lambin (deh-NEE lahm-BAN)

We begin regrettably with a dearth of information; the most thorough biography I can find online and in English comes from a digital republication of the Catholic Encyclopedia of 1910. This is regrettable, in part, because the Catholic Church was central to the great moral evil that finally killed him.
But to begin with the facts; his short biography on Wikipedia relates that Lambin was born in about 1520 at Montreuil, Pas-de-Calais, in the North of France. "Having devoted several years to classical studies during a residence in Italy, he was invited to Paris in 1550 to fill the professorship of Latin in the Collège de France, which he soon afterwards exchanged for that of Greek."
On his early travels in Italy, the Catholic Encyclopedia has this to say:
"He entered the service of the Cardinal de Tournon, whom he accompanied on two visits to Italy (1549-53; 1555-60). In this way he saw Rome, Venice, and Lucca, and was brought into contact with Italian scholars such as Faerno, Muret, Sirleto, Fulvio Orsini. During his sojourn in Venice, at the suggestion of the Cardinal de Tournon, he translated Aristotle's "Ethics" (1558)."
He returned to France in 1561.
He was without question a brilliant and learned scholar, and his knowledge of the Greek and Latin languages was of a high order. Among his achievements are translations of Aristotle, Aeschines, and Demosthenes. What he is really remembered for is his acclaimed scholarship in critical editions of four Latin writers; Horace, Lucretius, Cicero, and Cornelius Nepos. It was Lambin who demonstrated philologically that the biography of Atticus whose authorship was long contested was indeed the work of Nepos. His edition of Lucretius was groundbreaking in its scholarship, and a personal copy of this work was annotated with marginalia by Montaigne.
The Encyclopedia again:
Moreover, the commentary on Horace and Lucretius is extensive and accurate, contains many quotations, correct remarks, and explanations based on a profound knowledge of Latin.
There is a curious thread of Epicureanism in all of this. In addition to Lucretius and Horace, and Atticus, his work on Demosthenes and Aeschines are circuitously involved in the same interest; editions of those works published by none other than Atticus himself were highly regarded in antiquity. His name was Latinized in the tradition of humanist scholars as Dionysius Lambinus ('Denis' means follower of Dionysus),
And so we come down to a difficult question; what were his genuine opinions on the relevant issues? The Catholic Encyclopedia once again has this to say:

The two former friends, moreover, were separated by their tendencies. Muret had become a friend of the Jesuits, whom Lambin detested on account of their differences with the University of Paris. Lambin was regarded by the Catholics of Italy as inclined to heresy, although on 8 July, 1568, he, with seven of his colleagues, took the oath of Catholicism.
I think we may be sure that they did not seek to do so of their own accord. What we are driving at in all of this is the great crisis in Paris that intervened in the last months of his life, 450 years ago.
Denis Lambin died, per the Catholic Enclopedia, in 1572, "from the effects of the shock given to him by the Massacre of St. Bartholomew."

One would be forgiven for raising a skeptical eyebrow here. This event is now known to history as the St. Bartholomew's Day Massacre--notice the subtle shift of blame in the older wording. There is a second problem; there was not just one massacre, but several of them. There was not a single day of bloodletting--it lasted for over a month. And it was not restricted to a district in Paris, but spread like the plague to nearly every corner of France. During the course of these varied bloodbaths, a deranged Catholic mob (goaded perhaps by the King of France of himself) took the advantage of a prominent Protestant wedding in Paris to go on a rampage, slaughtering the Huguenot 'heretics' beholden or suspected of conversion to a Protestant reformed theology. I will not begin to contrast the relative merits of these two faith systems. Nor will go into detail about the massacres themselves, except to say that the brutal murder of over 5,000 French people was praised by, among others, the Pope in Rome, who struck a commemorative medal (really?), and that the Catholic Encyclopedia of 1913 described the massacre as "an entirely political act committed in the name of the immoral principles of Machiavellianism" and blamed, not the Catholic mob, but "the pagan theories of a certain raison d'état according to which the end justified the means". To which we may reasonably ask the following question; is the Pope a pagan?
Among the dead and the damned was a French scholar and personal friend of Denis Lambin named Peter Ramus; it has long been thought that the savage killing of Ramus gave Lambin the shock that finally killed him.
So on this day, 450 years later, we commemorate the life of one of the most brilliant humanist scholars of the Renaissance, who laid the foundation for all the future study of the poet Lucretius, of Horace, and of the life of Titus Pomponius Atticus.