It's hard to avoid hearing the news of the world, and I think Epicurus would want us to pay as close attention as necessary to ensure our safety and happiness. Many of the principal doctrines are devoted to justice and other social issues that have major political ramifications.
However for the good of our work in the promotion of Epicurean philosophy in general, as opposed to our own personal application of it, we have a rule against postings that cross the admittedly difficult-to-discern line into "partisan politics."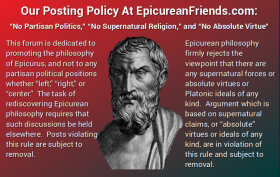 We have had very little issue with needing to moderate posts in the pasts, and opening up political discussions from one side or another would invite responses that would likely result in polarization over issues that are not essential to our purpose here.
We have an intelligent group of moderators here who have devoted a lot of time and effort in the past into the community we are building here at EpicureanFriends, and we will have continue to review our rules as time goes by.
Until such time as any changes are announced in our policies, we ask that posters continue to abide by this forum rule as they have done in the past. Thanks to everyone for your cooperation!
Thread
Our Posting Policies At Epicureanfriends.com: No Partisan Politics; No Supernatural Religion; No Absolute Virtue
epicureanfriends.com/wcf/gallery/image/383/
Although we have done a good job of keeping day to day politics out of our group discussions, this is a topic that should not be left to guesswork on where we stand. Failure to address this topic probably causes dissonance in the minds of many people who think that their own interpretation of Epicurus leads directly to a certain set of political positions.
And I agree with these people. I think Epicurean philosophy does have direct application to…