I admit even after years of study I still get confused when comparing the busts of Metrodorus and Hermarchus.
For example I thought this is Metrodorus: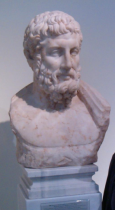 But I am not 100% sure of that, and I don't have good side by side and authoritatively labeled PHOTOS of the existing busts from Herculaneum.
Can anyone help with that?
In this compilation of the ETCHINGS, the faces look pretty distinguishable: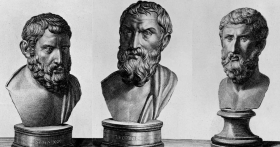 But when I compare these to that photo (above) it's not at all easy for me to say which is which. Is the photo the same as the bust on the left or the right of that photo? And what's the right name labeling?
From Wikipedia, but that to me doesn't really look like EITHER of the etchings.