Here is a download link for the first public edition of this PDF, downloadable at Archive.org. I will be working on upgrades and revisions to this over time and will post those in this same location. The download is approximately 125 megabtyes in size, so be careful of your personal data caps and restrictions. Once archive.org finishes processing it, it should be readable online without downloading the full edition, however you may want to so that you can set your own bookmarks.
This PDF contains the public domain versions of the 1743 Edition, the Hugh Munro Edition, and the Cyril Bailey Edition. The main value of this particular PDF version is in the bookmarks and the organization of the material into one place. If you have suggestions for improvements, please let me know, as I hope to upgrade this in future editions with much more reference bookmarking, linking, and commentary.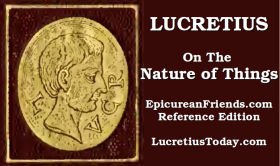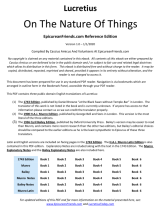 Note: As of this moment five hours after uploading, the Archive.org pages says that it is still processing the file and here is no "preview" available. I am hoping when the processing is finished we will be able to view and flip through the pages at the archive.org site, and that will allow us to post links to particular pages to aid in the discussions.