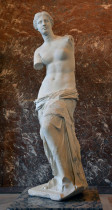 Livioandronico2013 - Own work
CC BY-SA 4.0
Tomorrow, Saturday April 8th, is the 203rd anniversary of the rediscovery of the Venus de Milo in 1820. As Don pointed out recently, April was the month dedicated to Venus/Aphrodite by the Romans.
Creatress, mother of the Roman line,
Dear Venus, joy of earth and joy of heaven,
All things that live below that heraldry
Of star and planet, whose processional
Moves ever slow and solemn over us,
All things conceived, all things that face the light
In their bright visit, the grain-bearing fields,
The marinered oceans, where the wind and cloud
Are quiet in your presence – all proclaim
Your gift, without which they are nothingness.
For you that sweet artificer, the earth,
Submits her flowers, and for you the deep
Of ocean smiles, and the calm heaven shines
With shoreless light.
-Trans. Rolfe Humphries