Hi Everyone,
We are starting up a new book study group on Emily Austin's book: "Living for Pleasure: an Epicurean Guide to Life" - via Zoom.
This is open to all forum members -- and -- it will be especially geared for newer members who are just starting out in their study of Epicurean philosophy.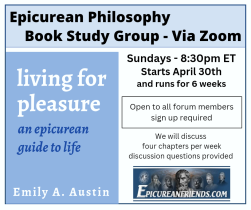 We will discuss 4 chapters per meeting which will take a total of 6 weeks (since there are 24 chapters).
This is a heads up so that you can purchase your book in time for the first meeting.
Here is the Amazon link (for ease of reference):
https://www.amazon.com/Living-Pleasure-Epicurean-Guide-Guides/dp/0197558321
Martin, Cassius, and myself will be facilitating discussion.
The first four chapters are:
1. Maybe We're Doing It Wrong
2. Epicureanism, the Original Cast
3. Happiness, Theirs and Ours
4. Natural Hedonism
Please let us know if you are interested in attending by posting here in this thread.