This is the thread for discussion of the Sedley article on Epicurus' Refutation of Determinism. This is BY FAR the best treatment of this subject I have ever read, and I highly recommend it to everyone who participates in this forum.
David Sedley is an outstanding scholar who is generally very sympathetic to Epicurus, and this article brings together the familiar passages from Lucretius with Sedley's interpretations of Herculaneum fragments from Epicurus' "On Nature." The result is a persuasive picture of the approach Epicurus took to refuting determinism, and how the swerve fits in as a physics observation that allows human agency, without an understanding of the precise mechanism being necessary to the broader logical argument in favor of agency. I highly recommend this article on this important topic to all serious readers of Epicurus.
Key thought: Epicurus' version of atomism was not of the "reductionist" variety.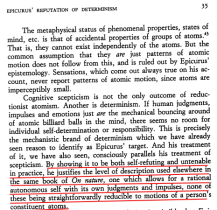 The article is available here:
File
Sedley: "Epicurus' Refutation of Determinism"

1983 Paper which is the one of the best treatments of Epicurus' view of the Free Will / Agency / Determinism issue available.