The epiStoa association takes its name from the two major Hellenistic philosophical schools: that of Epicurus and the Stoa.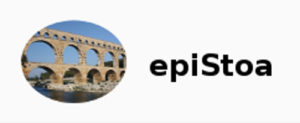 epiStoa, whose symbol is a Roman aqueduct, European Values and Languages - From Antiquity To Today.
epiStoa is a European initiative to foster and promote European Values - human rights, democracy and the rule of law - and the impact of the Ancient Languages on modern Europe.
For more information: http://epistoa.eu/