If you can't walk and chew gum at the same time you aren't going to be a very successful human, and if you can't navigate between the extremes of asceticism and extravagance then you certainly aren't going to be a successful Epicurean.
So in that spirit if you can't consider the image of Venus with which Lucretius opened "On the Nature of Things," or of Aphrodite, the patron goddess of all those of ancient Greece who honored Pleasure, without tripping up on the perils of intoxicated hedonism, then you're not on your way toward understanding the ancient Epicurean elevation of Pleasure as the alpha and omega of the blessed life.
So here are a couple of artistic evocations of that understanding.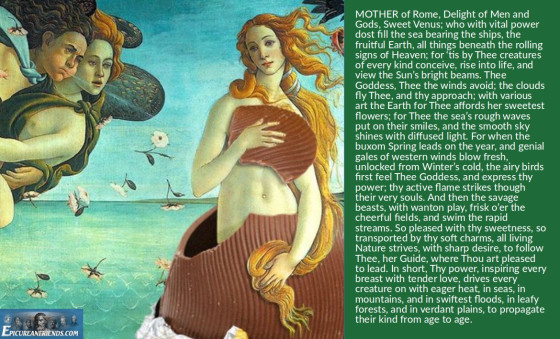 Philodemus:
Charito has completed sixty years,
but still black is her long wavy hair
and still upheld those white, marble cones of her bosom stand firm without encircling by brassiere.
And her skin without a wrinkle, still ambrosia,
still fascination, still distills ten thousand graces.
But you lovers who shrink not from fierce desires,
come hither, forgetting of her decades.