[ADMIN EDIT: This is a copy of a post from Don that was placed originally in another thread.]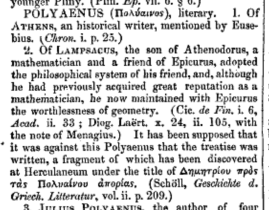 Poor Polyaenus! He has such an unfortunate English pronunciation to his name (Yes, evidently I'm 12 years old! "Many an.." you get the idea.) I saw the technical Latin pronunciation is po-lee-EE-nuhs. The Greek is Πολύαινος (Polyainos), something like pol-Ü-eye-nos in Ancient Greek or modern Greek sort of like pol-EE-ehnos (I think).
He's not mentioned a lot in the ancient texts, but I think the dictionary entry above doesn't include Philodemus. I seem to remember mention of him mentioning Polyainos in his works.
DL mentions him by name, X.24:
Next came Polyaenus,37 son of Athenodorus, a citizen of Lampsacus, a just and kindly man, as Philodemus and his pupils affirm.
and footnote 37 reads
One of the four pillars of the school : a great geometer until he became an Epicurean (Cic. Ac. Pr. 106 and De fin. i. 20). A letter of Epicurus to him is mentioned by Seneca (Ep. 18. 9).
Cicero's Academics seems to just mention him by name. De Fin has this:
It is also unworthy of a natural philosopher to deny the infinite divisibility of matter; an error that assuredly Epicurus would have avoided, if he had been willing to let his friend Polyaenus teach him geometry instead of making Polyaenus himself unlearn it.
and Seneca mentions this
(Seneca's Letters – Book I – Letter XVIII) Even Epicurus, the teacher of pleasure, used to observe stated intervals, during which he satisfied his hunger in a stingy (maligne) fashion; he wished to see whether he thereby fell short of full and complete happiness, and, if so, by what amount be fell short, and whether this amount was worth purchasing at the price of great effort. At any rate, he makes such a statement in the well known letter written to Polyaenus in the archonship of Charinus. Indeed, he boasts that he himself lived on less than a penny, but that Metrodorus, whose progress was not yet so great, needed a whole penny. Do you think that there can be fullness on such fare? Yes, and there is pleasure also, – not that shifty and fleeting Pleasure which needs a fillip now and then, but a pleasure that is steadfast and sure.
That's not a lot to go on. There's the Wikipedia article that mentions an Italian translation of fragments.
I think it's also worth noting the "stated intervals" of Epicurus fasting or eating minimally. This implies that he in fact didn't live on bread and water all the time (as some try to say) but it sounds like he did experiment from time to time during "stated intervals" to ascertain his limits as to what would satisfy him and provide pleasure/absence of pain of hunger. (Side note: it appears the actual coin mentioned by Seneca is the Roman as: Epicurus didn't require a whole "as" but Metrodorus did: Et quidem gloriatur non toto asse se pasci, Metrodorum, qui nondum tantum profecerit, toto.Here is a site talking about the purchasing power of Roman coins.)