This is a thread for general discussion of the use and revisions to the quiz function of the forum. I would appreciate over time if people would let us know comments, questions, suggestions, etc, about this function. And here's one good use of this thread: I just recently added the first two quizzes for the Lucretius review. I checked the results and see this for the BOOK ONE PART ONE Quiz result: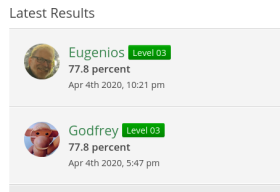 Uh-oh, for Eugenios and Godfrey to get exactly the same 77.8 percent result, there must be a particular question or two that may be weirdly worded or even wrong. I am not sure that I have the ability to check individual test results to see what questions caused the issues. Can you guys let me know if I have a question or two you disagree with?
One of these days I will move these questions into a full-blown "Moodle" or similar computerized learning format, so anytime someone sees a particular question which could be improved, let me know.