I am trying to come up with a list of names which were applied to the Epicureans either by themselves or others. So far I have:
The Garden
The Twentiers (or some variation referring to the 20th
Hogs In Epicurus' herd (from Horace)
..."The joyous choir" (on the funeral inscription, noted below
Epicurus himself was referred to as "The Garghettian" by Cicero so maybe they also applied that to the group.
Are you aware of any others?
Cites:
20ers -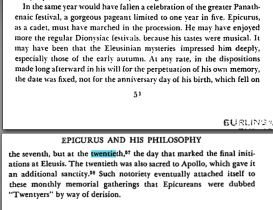 Joyous Choir
https://newepicurean.com/keepi…iving-and-alive-with-joy/
Hog in the Epicurean Herd -- Horace letter to Tibulus