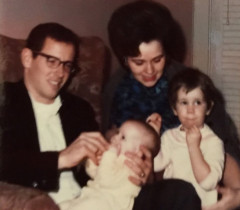 Elayne is one of our most valued members here, and at risk of making this more public than she would prefer I want to let our regular participants know that her father passed away today. We have heard Elayne mention her father and his physics background often on the Lucretius podcast. If Elayne wants me to move this to a private location she can let me know and of course I will do that, but times like these are important for us all to think about and be of assistance to each other as we can, so I am posting this so all of our regulars can see it at least for now.
Elayne has recently started her own blog in which she will be pursuing her thoughts on philosophy and many other things (while remaining here as well I am told!) and she recently posted about her father here.
It would not be surprising if Elayne is away from posting for a while, as she will be away from the Lucretius podcast at least for tomorrow.
My deepest condolences go out to Elayne at this time, and of course if there is anything that I or anyone else here can do for here I trust she will let us know.
Edit: I am going to take another risk and repost what Elayne posted on her public Facebook page:
My dad is gone. I did get to talk to him-- the hospice nurse called us one after the other and held the phone. He couldn't respond, but she said he moved his leg when I talked.




I made quick notes so I wouldn't forget what I wanted to say. I cried the whole time so I hope he could understand me. I told him I loved him, what a good father he was, and I thanked him. I told him a few memories. We were in the process of doing a memory book, Story Worth, and one question was "how do you want to be remembered?" He had answered "as a person whose actions were based on reasons which are not biased or selfish." I told him he had succeeded at this goal and I would remember him that way.




He was still working on a physics paper-- my brother who is also a physicist says all the key points are there. Some kind of error he found in conventions about vectors and magnetic spin. I promised him I would make sure it got published, so his work wouldn't be lost. And then I said I loved him again, and goodbye.




It was one of the hardest things I've ever done. I did not get to tell my mother goodbye, 34 years ago-- she died alone from a brain tumor in a nursing home. But I got to tell my dad goodbye. I got to see him over Labor Day weekend and I knew it was maybe the last time.




My daughter got to talk to him, my brother, and my uncles. After my stepmother said goodbye, they took off the bipap mask and he died about two hours later. My stepmother said his room faced east and there was sunlight in the room.

Display More