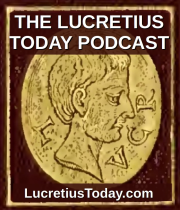 This weekend we will be recording our 88th episode of the Lucretius Today podcast, which will carry us through line 818 of Book Six.
There are approximately 1272 lines in book six so at a rate of 100 lines a week we have about five or so weeks to go. That means by the end of October or mid-November, we will have completed going through the entire poem, and it will be time to decide where to go from here.
It may be that our core podcasters (Martin, Don, and myself) are close to our limit to get one significant podcast completed per week, so in order of priority I think in order to build a proper foundation for listeners to build on, we need to next go through the major letters from Epicurus, in order (Herodotus, Pythocles, Menoeceus).
We'll have to take a look at the economics and practical issues involved in whether to give that a separate podcast title (probably) or wrap it into the existing Lucretius Today setup so that existing podcast listeners get the new episodes automatically.
My preference is likely going to be to continue the LucretiusToday podcast with a new format - probably starting over at the beginning and going through the book entirely again with as many of the existing panel as wants to continue, plus new people as a wider panel. Our earlier episodes were a little different from the later episodes in that several of our panelists were largely new to Lucretius, and I think we can go over and over and over again, just as the poem was intended, using it to introduce new people to Epicurus by having them listen to people talk about it who are also new. It may be that as we go through it a second time we make a regular part of the program to go through it more slowly, but to devote more of the discussion time to application of what we are reading to wider topics and clarifying the big picture. When we went through it the first time we were precisely focused on the text of the week, but in a second walk-through we can explicitly devote half or more of the podcast to integrating the week's text into the big picture.
So at the moment I am hoping to enlist one panel to proceed with an "Epicurus Today" podcast for the letters from Epicurus (we control EpicurusToday.com as a base for that) and a second panel to continue on with the LucretiusToday podcast, going back through the book from the start while also possibly modifying the format to seek wider participation.
But even that may not be enough. I really think we need regular (weekly or bi-weekly) conversational call-in shows to open up participation to even wider audiences. But to do that successfully I want to be sure we have some of our core people here available to lead the discussion. I'd like to see us "advertise" the open show to wider groups such as on Facebook and similar social media, but I don't want a free-for-all that turns into a "Why Lathe Biosas Means Live in A Cave" and "Why Stoics and Epicureans are essentially the same" argument every week. We need some core people to lead the discussion to keep things light and conversational while avoiding that. Maybe we can solicit questions and posts the topics ahead of time as a way to keep the topics in proper line.
I also want to see us go back and package up the existing Lucretius Today episodes and get them moved to Archive.org and also to Youtube, with a video side that shows the text we're talking about as we discuss it. If anyone is interested in helping with such a project please let us know, because that's going to take a lot of effort that probably needs to be devoted to recording the new material more than repackaging the old one.
Let us know what you think about these comments in the thread below.