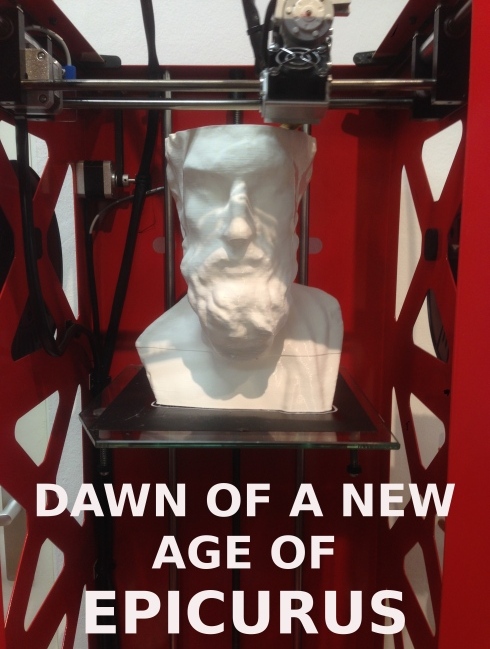 Welcome to Epicureanfriends.com, home for friendly discussion of the philosophy of Epicurus. Here you will find a warm group of people who are studying and learning about Epicurean philosophy as a way of life, and not as a matter of history or for purely academic reasons. Our main feature is our Forum, but we also have a Wiki with many Epicurean texts and helpful reference materials. You many also want to check out SocietyOfEpicurus.com, NewEpicurean.com, The Menoeceus Blog, or our many other links (below).
Here you can participate with a community of friends who appreciate the wisdom of the ancient Epicureans. Registration is automatic and quick through an email verification process. The Forum is divided into many categories for ease of reference, and we encourage you to browse through the topics and post wherever your comments and questions will be most likely to be found in the future by others with similar interests.
But don't let the large selection of topics intimidate you - if you don't have a preference on where to start simply click here for the General Discussion and post away.
For other information about the world of Epicurus, please check the following pages:
 

NewEpicurean.com: A research blog dedicated to introducing new students to Epicurean Philosophy.
 Society of Epicurus: Home page of the International Society of Epicurus.
 Epicurean Philosophy Facebook Discussion: The most active Facebook Discussion Group for Epicurean Philosophy. As of early 2017 most discussion takes place here, but if you wish to contribute a long post that you want to find and access in the future, feel free to cross-post it here. Also as of early 2017, a listing of some of the major posts can be found here at the EpicureanFriends.com Wiki
 EpicureanDocs.com: A site dedicated to organized presentation and easy access to core Epicurean Documents.
 EpicureanDatabase.wordpress.com: A site dedicated to organizing key Epicurean documents and articles.
 Epicuros.net: The Friends of Epicurean Philosophy, Thessaloniki, Greece.
 Epicuros.gr: The Friends of Epicurean Philosophy, Athens, Greece.
 Epicurism.info: (formerly Epicurus.info) One of the most complete sources of information on Epicurus on the internet.
 Epicurus.net: One of the oldest and best sources for key Epicurean texts.
 Diogenes of Oinoanda: The best site for the English translation and information about the Inscription of Diogenes of Oinoanda.
 Epicureanfriends.com Wiki: The wiki set up as part of the EpicureanFriends.com project.
 Outline of Epicurean Philosophy: A single page collapsible outline of key aspects of Epicurean philosophy.
 Epicurean Philosophy v Stoicism: A chart with citations listing the core areas of dispute between Stoic and Epicurean philosophers.
 ElementalEpicureanism.com: A site dedicated to organized presentation and easy access to core Epicurean Documents.
 The "Full Cup / Fullness of Pleasure" Model: An Illustration of "A Life of Tranquility Crammed Full of Pleasures," Cicero's description of his understanding of the Epicurean goal of life.
Other significant links:
* Purpose of this Forum 
* Frequently Asked Questions About Epicurus
* Community Standards of This Forum
* Distinguishing Epicurus From Other Philosophers - A Comparison With Stoicism
* Setting the Stage For Discussion of Pleasure
The information we have here is free for all to read and learn from, but posts are moderated. Before you can participate fully in the community, we ask that you read and abide by our Community Standards. Thank you for your interest, and we hope to see you in the forums soon.